DIY Jigsaw Puzzle for Valentines - The Ultimate Guide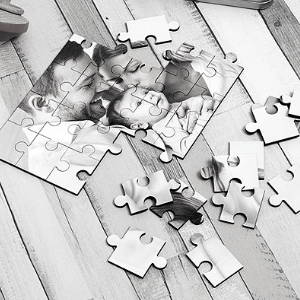 Thinking of giving a gift on Valentine's Day? Forget the flowers, chocolates, card or fancy dates. Why go for something predictable and routine when you can go for something made with a personal touch? Nothing will be more meaningful and special than a jigsaw photo puzzle made with effort, time and love. Sweet!
Transforming a memorable photo into a jigsaw puzzle is a time-tested old-school Cosmo relationship tip. The photo puzzle becomes a cherished memento of your love, which you can hang on a wall, or play it together as part of a romantic overture after a dinner date. You don't need to spend much. Just include some wine with the puzzle.
Because we are such sentimental fools here at Puzzle Ready, we're going to teach you how to make your own jigsaw puzzle in the spirit of the romantic season. It's actually a very easy and affordable DIY gift that you can make. All you need is some paper, wood or even a box of your favorite pizza.
Here are 5 easy steps to make your jigsaw photo puzzle:
Prepare your materials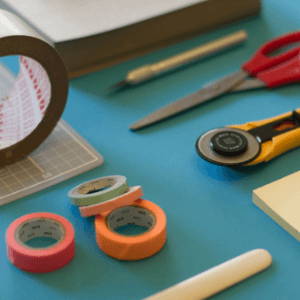 First, you need to prepare a pencil, ruler, scissors, glue or adhesive spray. If you want to use wood as your puzzle backing, you need to have electric or pedal-operated saw so you can cut the puzzle pieces smoothly. But if you're making a cardboard-backed puzzle by using a pizza box,a pair of scissors and hobby knife will do.
Choose a Photo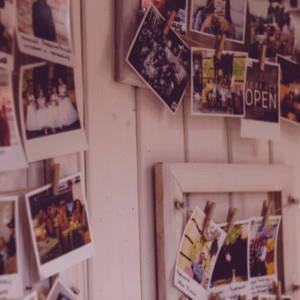 Now that all the materials are ready, it's time to choose your picture. It's better to use a high-resolution photo so it will still look good when it's cut into pieces. The size of your puzzle will depend on the size of your photo. The standard size of a jigsaw puzzle is 27 inches by 19 inches so your photo should have the same size. But if you'd like a bigger or smaller puzzle, it's up to you. And if you want it in square or rectangular shapes, that's totally fine as well.
To create puzzle pieces out of that precious piece of photo, you need to cut it into grids. Use your pencil and ruler to draw gridlines. You can also print for puzzle templates online so you'll have a guide on what and where to trace. If you don't want to have too many puzzle pieces, cut your picture using a 9-piece (square) or 25-piece (rectangle) grid pattern.
Attach Photo in the Puzzle Backing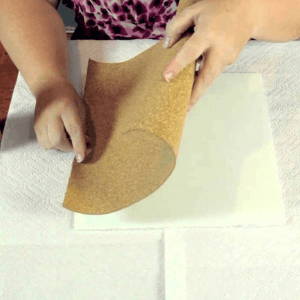 To make your puzzle more sturdy, you need to attach it in a puzzle backing. A puzzle backing can be made out of wood or cardboard. If you're planning to use cardboard, you can recycle a pizza or cereal box; just make sure that it is clean and flat to avoid bubbles. Using a roller or an old credit card, apply pressure to smoothen it evenly. The puzzle backing must be the same size with your picture. If it's too big,use a hobby knife to cut off the extra length from the cardboard.
Just a friendly tip: to add a protective coating on your photo puzzle, apply lacquer spray on its surface. This will give a hard and shiny finish to your puzzle. It will make the puzzle durable so you can enjoy it for as long as you want to.
You can now paste the picture on your puzzle backing. Easy right?
Cut out Puzzle Pieces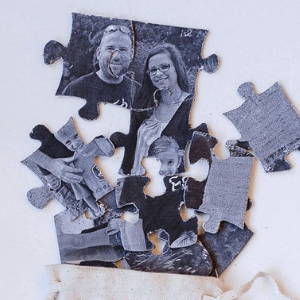 Before doing this tricky step, make sure that the puzzle is dry. Let it dry for a couple of hours. Then, in a clean and flat space, use your hobby knife to trace and cut the pieces. If you're using a wood backing, use a saw to cut it slowly and carefully.
If you want to make larger pieces, create only a few grids but if you like to make more pieces then make your grids smaller. You don't want to damage your photo or worse, cut your hands in the process right? So be careful in cutting your puzzle pieces.
Put the Pieces in the Puzzle Board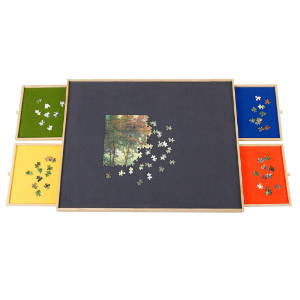 Once you're done, however, you'll be wondering how to store these pieces. A frame isn't ideal especially if you're using a unique puzzle back. If you want something sturdy and will last a lifetime, a puzzle board organizer, then, is what you need.
Don't waste your money on single-use fancy gift wraps. Puzzle Ready's puzzle board organizer will keep all the puzzle pieces together and ready for use. Unlike other wood boards, it's easy to lift, is lightweight and balanced for easy storage.
It has 4 sliding trays to help you sort your puzzle pieces or store additional ones. Your photo puzzle gift deserves the best so click here to get your own puzzle board now.
Read Next
Top 10 Puzzle Gift Ideas For 2018