Top 10 Puzzle Gift Ideas
All puzzles have a lot of good benefits on the brain, like improving memory, IQ and visual-spatial reasoning. But physical puzzles take learning to the next level because of its physical and social aspects. Children develop their motor skills and fundamental social skills by playing physical puzzles. Let's face it, can anybody turn down the challenge of solving a physical puzzle?
Here at Puzzle Ready, we've curated the top 10 puzzle gift ideas of the season. Give some love to these classics. From a pocket-size puzzle to a giant yard puzzle game, we have it all for you. We also included some all-time favorites: the jigsaw, Tetris and 3D puzzle games. Whether for gifting or holiday bonding, this will surely delight just about everyone.
1. Qboid Pocket Puzzle by Brainwright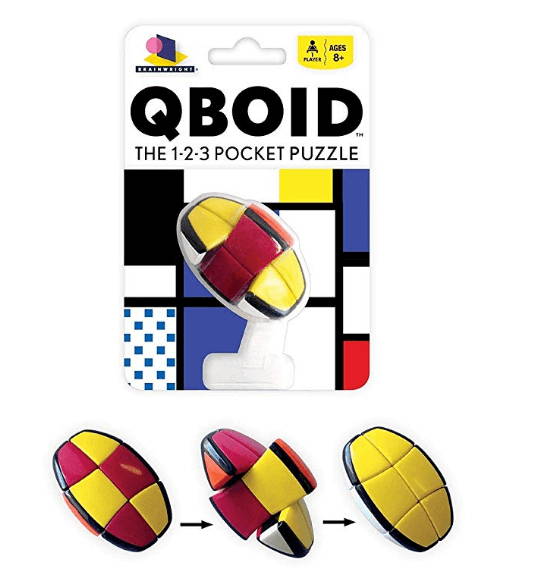 Let's start with this tiny brain teaser. Rubik's Cube masters will surely love this uniquely-shaped Qboid pocket puzzle.
Much like the Cube, you simply match the colors of each side by flipping and turning the tiles. Think of it as Rubik's junior, except that it's shaped like a football. It's so handy, you can just take it out from your pocket whenever you're bored in class or in the office.
Who says you can't sneak toys in the office?
2. DIY 3D Sailing Boat Puzzle by ZValueDesign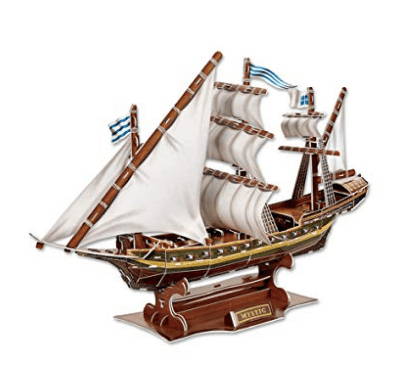 If you want something decorative, this 3D Sailing Boat Ship jigsaw is for you. With 129 pieces, this is suitable for kids 8yrs old and up. Assembling the puzzle boat allows kids to develop their logical thinking abilities and nurture their nascent engineering skills.
Unlike the usual Do-It-Yourself project, you won't need scissors and glue so there is no mess at all. Made from high quality materials, this boat stands at 32.7 centimeters when standing. It's perfect for display in a curio cabinet or your desk.
3. 3D Wooden Puzzle by Sharp Brain Zone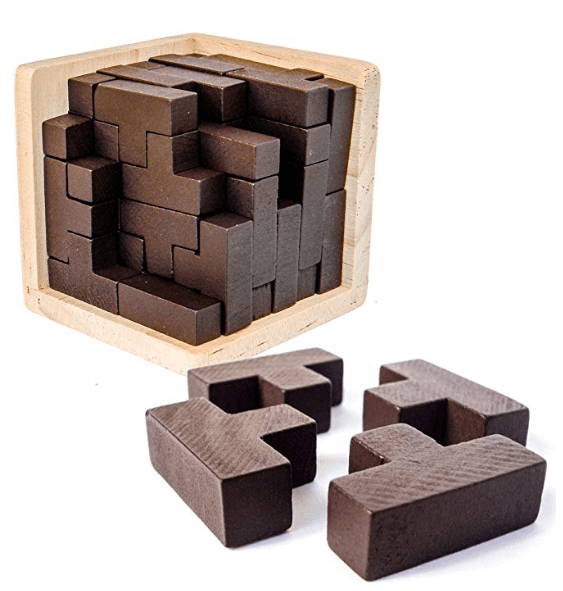 This 3D wooden puzzle is a combination of 2 classic puzzle games: Tetris and Rubik's cube. To solve this puzzle, you need to closely fit the wooden tetris pieces together to create a cube.
Why settle for a digital Tetris game, when you can have this tangible puzzle to test your spatial imagination and 3D puzzle design building skills.
Try this wonderful gift now.
4. Giant 4 Connect in a Row by Yard Games
Connect in a row is another all-time-favorite classic puzzle game. Now, it's made even better and bigger.
The folks from Yard Games created this giant wooden 31 x 23 inch board so the whole family can come together and enjoy this game indoors or outdoors. There are 42 solid plastic coins, 21 red and 21 blue coins which are perfect fit for the sliding action.
This game set also comes with safety pockets to fit all of your game pieces together.
5. Josephine Wall Spirit of Flight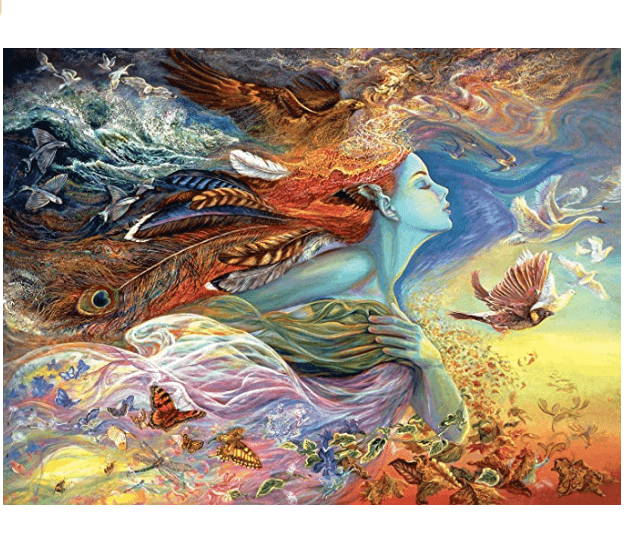 If you're looking for something artsy but challenging, this Spirit of Flight 1000-piece puzzle might just be what you need. Measuring 26.75 x 19.75'' when assembled, the canvas pieces come in light and dark shades.  
But don't worry, this puzzle comes with a bonus poster guide to help you figure it out. Once you've solved it, you can mount your beautiful masterpiece on the wall or rearrange it again.
6. Round Rainbow Palette Puzzle by LRRH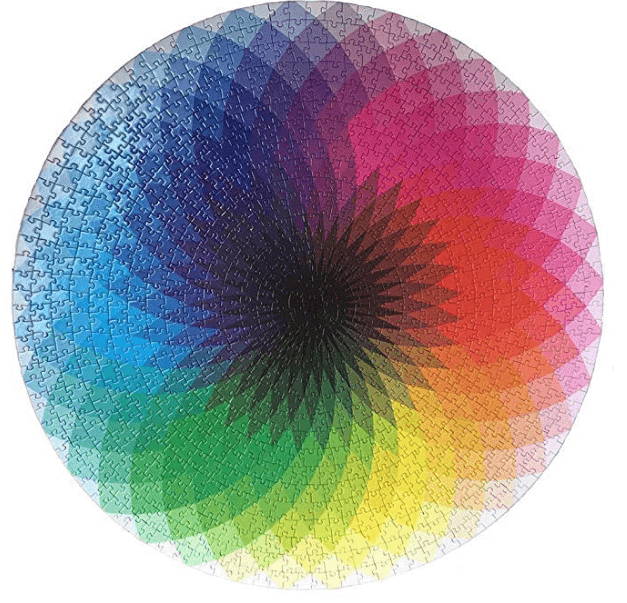 This is the ultimate multi-colored puzzle.
The pieces come in combinations of two or more hues, which will require a lot of patience and focus for anyone playing this puzzle. No wonder they call it the "Intellectual Game" since it cultivates one's cognitive abilities.
Are you up for the challenge?
7. 4-in-1 Disney Puzzle by Ceaco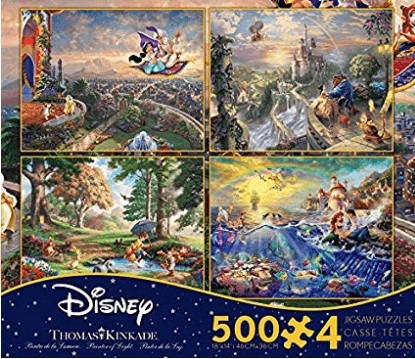 Best for kids and kids at heart, this Disney themed multi-puzzle is 18'' x 14'' size when completed. It contains small pieces so this game is best for 4yrs old and up.
Each puzzle has 500 pieces from the beautiful scenery of Aladdin, Beauty and the Beast, Winnie the Pooh and the Little Mermaid.
Best of all, you can get discount coupons by purchasing this gift for the holidays, making this the perfect 4-in-1 puzzle gift.
8. Personalized Name Puzzle by Fat Brain Toys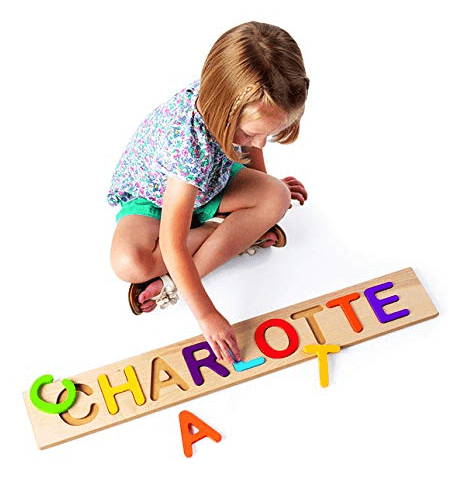 Looking for something for your brainy toddlers? Perhaps this wooden personalized name puzzle will catch your fancy.
It's a special customized name puzzle for babies ages 12 to 36 months. The different colors and letter shapes will provide a fun and sensory introduction to their names.
Now,isn't that a wonderful idea?
9. NFL Stadium Panoramic Puzzle by MasterPieces
For football fans, this panoramic view of the NFL Stadium will test you. The winner of the Dr. Toy Award of Excellence - 100 Best Toy, this puzzle uses thick recycled puzzle board and has 1000 pieces.
And yes, there is nothing to worry about copyright issues because this is officially licensed by National Football League (NFL).
The court, the crowd, the players - basically the whole stadium lies in your hands.
10. 4,000 Piece Puzzle World Map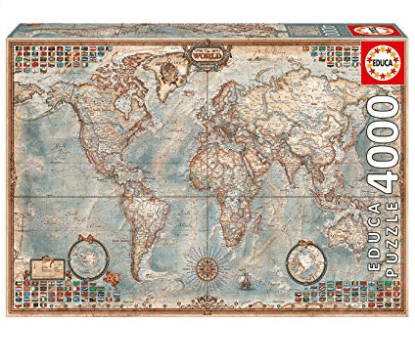 So you want to solve more than just a stadium, huh? How about saving, I mean, solving the whole world? Now we're talking.
This 4,000 piece puzzle map is sick. The world map measures 53.5 x 37.75'' when assembled. And guess what?  
This is a very informative puzzle. It has both political and physical maps of the world. Whether you're looking for a country or a flag or a river or a particular longitude/latitude, it's all in here. Amazing, isn't it?
Need Help Organizing Your Puzzle?
Now, every puzzle lover's worst nightmare is a missing piece. A single piece could make or break the bigger picture so you need to organize it well. With all these great jigsaw puzzles- each with at least a thousand pieces-you need to have the best puzzle board.
Puzzle Ready's puzzle board organizer is your best friend. It comes with 4 removable color-coded drawers to keep every piece so that you can sort puzzle sections easily. Unlike similar ones on the market, this puzzle board organizer has a smooth and sturdy fiberboard. It's very portable and easy to store, just the way you like it! No modifications needed; you can use it immediately straight out of the box.
Being able to solve the puzzles makes for sweet success. And we want to help you achieve that by giving you the means to keep all your pieces conveniently together.