Top 10 Earth Day Jigsaw Puzzles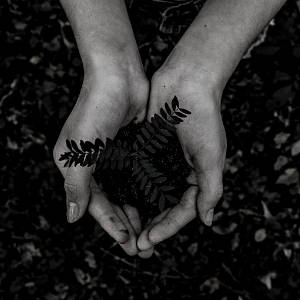 Earth Day is just around the corner again. Every April 22, the entire world commemorates Earth Day by highlighting the global movement against plastic pollution, and spreading awareness for preservation of wildlife and the fight for clean and sustainable environment.
What better way to get your kids inspired about Earth than by playing with Earth-themed jigsaw puzzles? Not only will this enhance their cognitive development but they'll also appreciate all the amazing facts about Earth that makes it worthy of protecting.
To celebrate Earth Day, we list these 10 awesome jigsaw puzzles for you and your kids to play with. So turn off your devices and prepare to spend hours bonding with your loved ones while getting reacquainted with how precious our planet is.
Top 10 Earth Day Jigsaw Puzzles - 3D Earth Jigsaw Puzzle
Let's start with this 540-piece 3D Earth jigsaw puzzle. Each individual piece is precisely made to ensure a good fit when it's assembled. Its manufacturers claim that you can hear it "click"when it fits perfectly.
This Earth puzzle is meant to be displayed after you solved it. But how can you display a 3D jigsaw puzzle?
Using Easy-click technology, you don't need glue to put all the pieces together. You just have to solve the pieces by connecting all pieces together to build a sturdy globe. The package also includes a metal rotating stand so you spin it on its axis when you're done.
Top 10 Earth Day Jigsaw Puzzles - Mountain Seasons Jigsaw Puzzle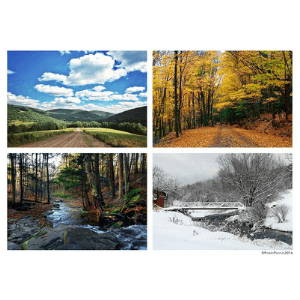 As the season changes each year, so does the foliage on mountains.
During spring and summer, mountains are full of colorful fresh flowers and plants that bloom. When autumn comes, green leaves that cover the trees turns to yellow, brown and some turns to orange like the maple leaves. Mountains covered in snow in winter and color white dominates the whole scenery.
Let your children experience this by playing with this 1000-piece Catskill Mountain Seasons Jigsaw Puzzle. It features seasonal mountain scenes, with each photo shot by puzzle-makers themselves.
It's a puzzle that approximates the colors of nature; it's perfect for travelers and nature lovers. It has varying levels of difficulty to challenge any player while still providing fun and relaxation while solving the puzzle.
Top 10 Earth Day Jigsaw Puzzles - Beautiful Places on Earth Puzzle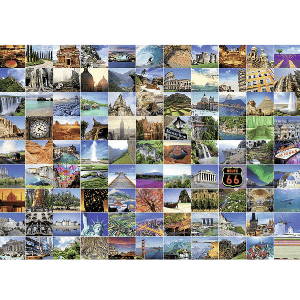 If you're looking for puzzles about the many wonders of this planet, you can try the 99 Beautiful Places on Earth Jigsaw Puzzle.
This 1000-piece puzzle features a colorful set of beautiful destinations like the Yellowstone National Park, the Empire State Building, Eiffel Tower and many more. It's the best way to see these places, unlike now, when most of these are already experiencing the wear and tear of climate change and global warming.
This is made from thick and durable blueboard with a linen-structured paper to create a glare-free puzzle image. This makes playing with it a stress-free experience.
Top 10 Earth Day Jigsaw Puzzles - Photomosaic Earth Jigsaw Puzzle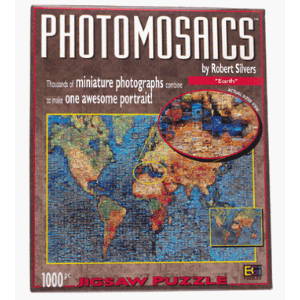 If 99-photo puzzle doesn't excite you, wait till you get this Photomosaic Earth Jigsaw Puzzle. This challenging 1000-piece puzzle is composed of thousands of miniature photographs from all over the world and combined to make an awesome portrait.
Photomosaic puzzles are top notch brain-twister, you need to solve tiny pictures in each piece to complete the whole puzzle. Some Amazon reviews claim that they even used magnifying glasses to piece it together but it's rewarding and all worth it when you finished the mosaic puzzle map.
Top 10 Earth Day Jigsaw Puzzles - Earth Angel Jigsaw Puzzle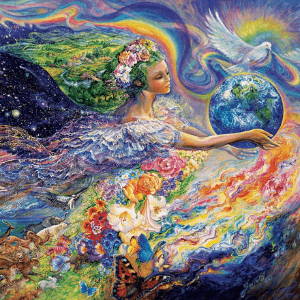 For the artsy ones, this 1000-piece Earth Angel Jigsaw Puzzle will surely attract their fancy. This surreal fantasy puzzle features a beautiful fairy with nature and animals.
Josephine Wall, the artist behind this Earth Angel painting, used her talent to create mystical images that depict nature and it's preservation. The manufacturer of this puzzle supports her advocacy as they too removed all plastic from their puzzles and use all recycled materials. They're living examples of an Earth Angel.
Top 10 Earth Day Jigsaw Puzzles - Jumbo Map Jigsaw Floor Puzzle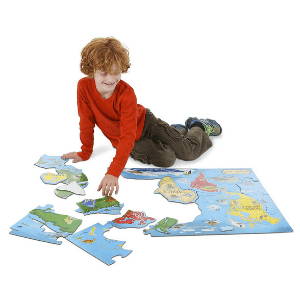 It's never too early to let them explore the world so get this Jumbo Map Jigsaw Floor Puzzle now. This floor puzzle map is very educational because your kids can learn shapes, animals, major oceans and the names of all continents of the world while playing this puzzle.
At only 33 pieces, this puzzle is an easy way to teach geography. It measures 24 x 36 inches and is made from colorful and thick cardboard so you can just place them on the floor and let your kids squat or crawl through them while solving the puzzles. It also has a wipe-clean surface so that it's easy to clean.
Top 10 Earth Day Jigsaw Puzzles - World Foam Map Puzzles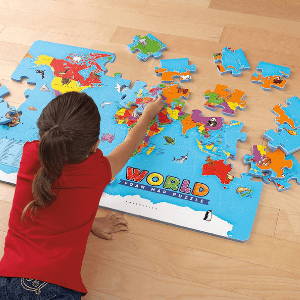 This World Foam Map Puzzle is another giant map puzzle for your little one. It is not made of hard wood or cardboard, but it's made of extra-soft foams. Perfect for preschoolers even 2yrs old and up.
With 54 kid-size pieces, this will help exercise their fine motor skills, problem-solving and geography skills. It's fun and easy to assemble because it is designed with adorable illustrations and colorful countries all around the world. And if you are concerned about your kid being messy while playing, don't worry - this puzzle map is water-resistant and easy to clean.
Top 10 Earth Day Jigsaw Puzzles - Animal Planet 4-pack Puzzle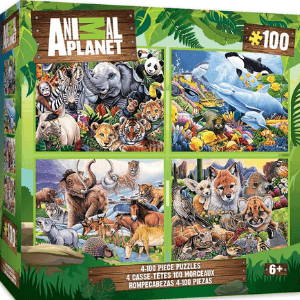 This year's Earth Day theme is about the conservation and protection of endangered wildlife. That's why getting this Animal Planet Puzzle will help instill a sense of compassion for animals at a young age.
Each puzzle in this package features different animals - bears, tigers, penguins and elephants. It also features interesting and exciting animal facts. This is an excellent way to let your kids see mothers and babies in their natural habitats. Protecting these endangered species will not just benefit today's children but also the future generations to come.
This Animal Planet Jigsaw Puzzle is a multi-pack set and comes with four 100-piece puzzle, a perfect gift for kids 6 years and up. This is an eco-friendly puzzle, since it's made of recycled materials. The proceeds from this puzzle go to Animal Planet's R.O.A.R foundation.
Top 10 Earth Day Jigsaw Puzzles - Antique World Map Puzzle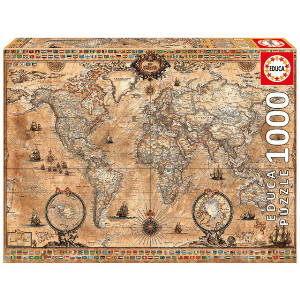 This 1000-piece Antique World Map Jigsaw Puzzle is for map lovers who love anything classic and antique. The puzzle's appearance is designed from an eighteenth-century sailor's map. Sure it may look outdated but all the countries and map information on it is based on modern data.
Feel like a pirate searching Earth's secret treasure with this unique puzzle map. The puzzle map has an antique compass, galleons and flags from different countries. Puzzle glue is included in the package so feel free to frame it on your office.
Top 10 Earth Day Jigsaw Puzzles - National Geographic Earth at Night
If you want an extraordinary Earth photo, then this puzzle is what you're looking for.
Made from a composite image shot by three satellites on cloud-free nights over a span of one year, this National Geographic Earth at Night puzzle is simply breathtaking.
This map reveals pulsating lights of the Earth at night, so you can locate where populations are least and most concentrated. The electrical lights in metropolitan areas highlight other geographical features. The box also comes with assorted facts about Earth that your kid will love reading and learning about.
Organize your pieces
All these Earth Day puzzles are wonderful. It's rewarding to look at complete unique puzzles as a whole but in reality it's hard to sort each piece especially in sets with the same colors. Sure there are fine lines that are a little different from the other but most of the time, pieces look the same. That is why using a puzzle board to sort the pieces is one excellent tip towards solving a puzzle.
Puzzle board drawers will also keep the pieces safe if you need to store them. Puzzle Ready's puzzle board organizer has 4 color-coded sliding trays and removable mat to ensure you never lose a jigsaw piece. And you will never lose your mind while playing.
Read Next
Best Puzzle Games for Kids - The Ultimate Guide