Best Puzzle Games for Kids - The Ultimate Guide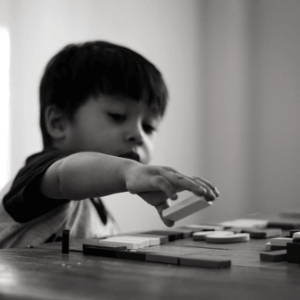 Early brain development has a lasting impact on your child's life. Inside the brain, millions of neural connections grow every second which is why it is important to provide the best toys to help develop cognition. One way of doing this is by combining fun while learning and puzzles are top of the list.
Puzzles provide good benefits for your child's developing brain. Every flip, twist and turn of the puzzle help their hand-eye coordination and problem-solving skills. It is also good for their memory as they recall each shape and unique pieces. Solving the whole piece helps them set goals and work for it. But every child is unique, so not every puzzle will be ideal for them.
With a million variations of puzzles all over the world, it is a challenge for parents to pick the best puzzles appropriate for their child's age, skills and development. There's also a safety factor to consider. Choking is the leading cause of child death. And with some puzzles having tiny pieces, parents have to pick one that would be safe for children to play with.
In this post, we list the best puzzle games for kids from one to ten years. The puzzles we've listed below differ in size, type and number of pieces.
Puzzles Best for 1-2 years old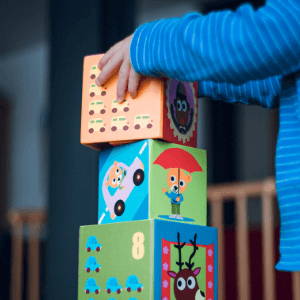 Newborn babies begin to see primary colors in just a few weeks after birth. So if you're buying toys, choose the color red. The brightness of this color will help develop their hand-eye coordination.
Buying baby toys for the first time is exciting, but don't overwhelm your baby with a lot of puzzle pieces. Start with a 3-piece knob puzzle for your little one's first puzzle toy. It could be 3 big blocks with unique shapes and colors to keep her interested. Keep in mind as well, to check the packaging if it's age appropriate and pick toys that are perfect for her tiny grasp.
Puzzles Best for 2-3 years old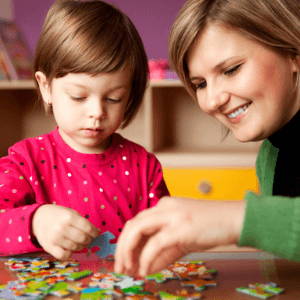 By this age, your child can now handle 8-20 pieces. Children in this age group already have their favorites. It could be any objects, colors, animals, cartoon characters and others. So buy jigsaw puzzles based on your child's interest to help positively increase puzzle playtime. Here's our tip: wooden peg puzzles are better than cardboard because they won't get soggy from saliva or spilled milk.
At this developmental stage, parent-child playing puzzle is more than just an emotional bond. It helps the child acquire spatial language. Puzzles are also great learning tools for a kid's self-esteem because they will experience a sense of achievement when they solve the puzzle. Guide your child first on how to do it then let her do it on her own. This will surely make her happy and keep her brain active. Instilling self-esteem while learning at a young age will encourage her to learn more as she grows up.
Puzzles Best for 3-5 years old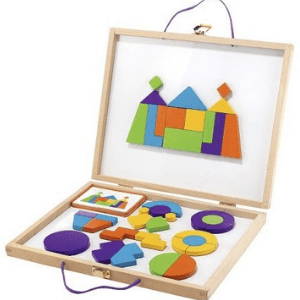 As your child grows, so do their skills and experiences. Ages 3-5 is the age of imagination, where they love to play pretend and use an object to represent something else. You can buy imagination magnets that they can freely rotate and join pieces together. They can work with 20-40 puzzle pieces by age 4.
This is also the perfect age group to introduce puzzle alphabet, numbers, sounds and other educational toys to prepare them for school. But don't force them to learn all of it; keep it fun and educational. You can also bond with them by making homemade toys to spark their imagination and creativity.
Puzzles Best for 5-7 years old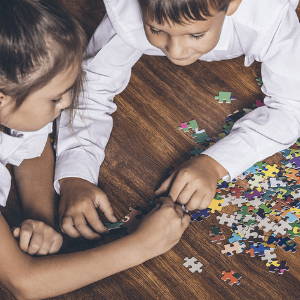 Let's face it. Your little one is not so "little" anymore. Kids this age group tend to be very social and they prefer playing with their friends than playing alone, so it is best to offer group puzzles which have at least 250-500 pieces. Playing puzzles with a group develops their social, motor skills and builds emotional confidence. It is fun to solve jigsaw puzzles with friends while munching some snacks. As they said, two heads are better than one.
Puzzles Best for 7-10 years old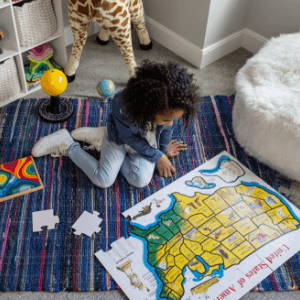 According to Piaget, this age is the period of concrete operation of your child's brain development. Thinking will become more organized and your child is already capable of concrete problem-solving. To identify what puzzle is best for your child, pick what he or she likes the most.
If your child loves vocabulary and world play, then buy Scrabble. She's into geography? Then the USA Map jigsaw puzzle is perfect. The number of jigsaw pieces depends on her ability to solve it. If 250 pieces seems fast and easy, it's time to buy a puzzle with 500-1,000 puzzle pieces. By challenging her brain with puzzles, it will continue to build new brain cells and strengthen neural connection.
Puzzle board best for all ages
As they become older, their jigsaw skills will develop, and they'll move on to more difficult puzzles with many pieces. In order to keep track of each piece, you'll need a 1000 piece puzzle board to help you and your child. A puzzle board is a good investment for puzzle lovers of all ages.
Puzzle Ready's board organizer will not only keep your puzzle pieces together but will also be an ideal storage container. Made from a smooth sturdy fiberboard with 4 drawers to keep the small pieces, it will help keep puzzle pieces organized.
Read Next
Top 5 Reasons Why Puzzles Are Good for your Child's Brain Development